Toastmaster Sandun Becomes World's First Impromptu Speaking Champion | Print edition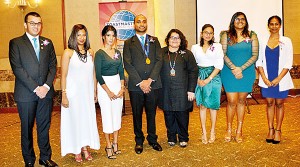 Views) :
Sri Lankan Sandun Anton Fernando hit the jackpot at the Worldwide Impromptu Speaking Extravaganza (WISE) by beating speakers from around the world to be crowned as the first-ever World Impromptu Speaking Champion.
Fernando was celebrated and congratulated at the installation of his home club – the Smedley Toastmasters Club – at the Ramada Hotel last Thursday (2).
In his journey to the pinnacle of Impromptu Speaking, known as Table Topics in TM, Fernando had to win several rounds in a debate-type competition, which virtually worked.
Award-winning speaker, corporate trainer, consultant and now this one, a man with many feathers in his cap, Fernando has had to prove his point on many topics.
In the decisive stage of the competition, split into four more rounds, Fernando saw it, sealing it in style, winning the verbal war on the theme of "Children have as much a right to their privacy as their parents and this right. must be applied ".
He, in the then District 82 community (comprising Tamil Nadu, India and Sri Lanka), was already the title holder of the Impromptu Speaking and Evaluation Speech competitions, and the only two-time champion to do so. The last victory came as the icing on the cake and was a triple triumph given the weight of the victory.
Longtime Smedley member Fernando gave the opening speech for the occasion, remembered and paid tribute to five other Smedlians, for shaping his life and being the mattress and motivators. The most important of the five being the former club president, and the first Lankan and Asian to win the world speaking championship in 2014, Dananjaya Hettiarachchi.
WISE, an impromptu speaking world championship, is endorsed by Toastmasters International, the governing body of TM. Fernando was selected to compete with two other compatriots as he was district champion, before being declared the overall winner.
Coinciding with the congratulations was also the installation of the new incoming executive committee for 2021/22, and TM Elmo Leon taking over as newly installed president.
A highly anticipated award for the night was Outstanding TM of the Year, which was won by outgoing Sergeant-at-Arms and New Public Relations Officer TM Lakmini.