Sudburian's speech earns him 2nd place in the global competition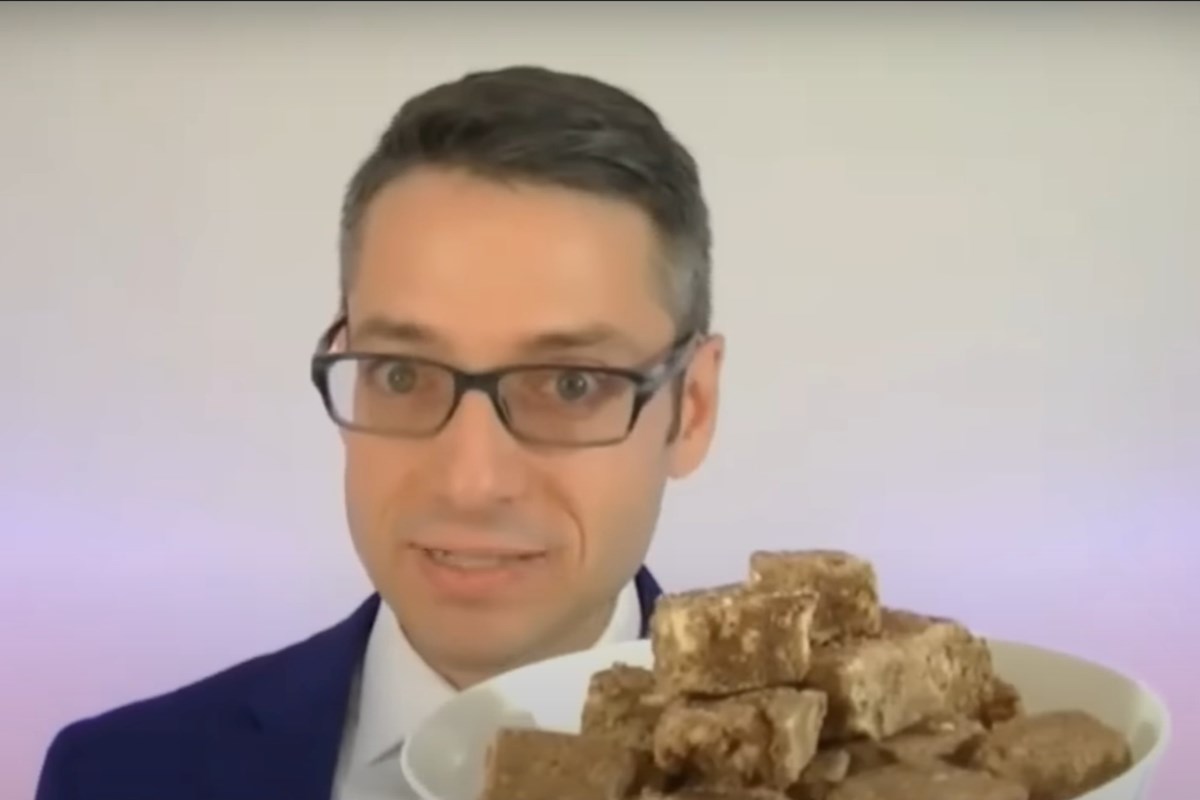 Alexandre Matte's talk is about the power of tradition — and his grandmother's famous no-bake cake (recipe below!)
Fifteen years ago, Sudbury resident Alexandre Matte considered himself a shy guy.
Then he joined Toastmasters here in Sudbury (he belongs to two different clubs), and everything changed for him, learning to communicate effectively with others and forming many lasting friendships in the process.
Toastmasters International is a global, nonprofit educational organization that empowers individuals to become more effective communicators and leaders.
Based in Englewood, Colorado, the organization has more than 300,000 members in more than 15,800 clubs in 149 countries.
Matte said he used to manage the finances of non-profits for a living, but now has a new career that uses his public speaking skills.
He said he has his own business where he tells stories for French-speaking children, visiting local schools.
Matte has now mastered the art of speaking to the point where he recently placed second in the Toastmasters International World Public Speaking Championship.
The first place winner of the 2022 contest is Cyril Junior Dim, from Zimbabwe, although he represented Eastern Europe in the contest, and the third place winner is Mas Mahathir Bin Mohamad, representing Malaysia .
Although the competition took place in Nashville, Tennessee on August 20, Matte participated virtually.
"My goal for about 10 years has been to get to the final stage, because I really wanted to have that opportunity to perform in front of thousands of people," he said.
"I was in the semi-finals twice before, but when I got to the final I thought 'This is perfect. I've achieved my goal. So getting second place is the icing on the cake.
Matte said he does not plan to enter the same competition next year, instead focusing his efforts on working with an international group of other French-speaking Toastmasters members, Vitrine Francophone Internationale Toastmasters.
In his winning speech, "Missing Ingredient," Matte talks about tradition, his family's annual summer reunion, how his late grandmother's no-bake cake was made, and the traditions that unite people and the changing world. that surrounds them.
You can watch a video of his speech below:
"My final talk is about tradition and the importance of traditions in holding together a family, a community or any social group, including a workplace," Matte said.
Given that his grandmother just passed away last year, Matte said this year was the first without his family's "main ingredient" – without a grandmother.
But he said his family won't fall apart because each person adds a special ingredient – and Matte still makes his traditional no-bake cake.
When asked how good this no-bake cake was, Matte replied "words can't describe it".
(If you are interested in making this confection yourself, take a look below this article – Matte was kind enough to share the recipe).
"It's a part of our annual gathering, and I'm very happy and proud to be part of it every year," he said. "It's a tradition, isn't it? And without that, the gathering would not be the same.
Grandma's no-bake cake
Well, here it is! My grandmother's unbaked cake recipe. Please note that I deliberately left it vague to allow you to experiment and make it your own!
Ingredients:
1 piece of butter the size of an egg yolk
1 egg
3/4 cup coffee (strong)
1 tablespoon of vanilla
3 cups powdered sugar
4 tablespoons cocoa
1 box of Village biscuits (600g) *
Not:
Beat butter and egg together.
Add coffee and vanilla.
Add sugar and cocoa.
Add the crunchy cookies.
Spread in a large dish.
Leave to dry for 24 hours.
Cut into pieces and serve.
*Made by Dare, the box is now available in 535 grams! You will need approximately 50-55 cookies. Village biscuits are hard to find; a mediocre to passable alternative is Maria cookies, or a mix of butter cookies and Biscoff cookies.