Robert 'Bob' Glenn | Obituary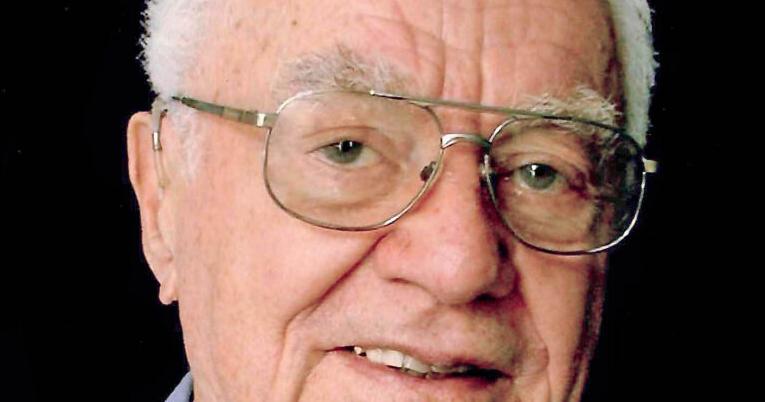 Robert "Bob" Glenn, 97, of Branson, Missouri, a former resident of Wapello and Albia County, Iowa, died peacefully Feb. 16, 2022 at home with his wife and daughters by his side.
Robert was born and raised in rural southern Iowa, where he worked on the family farm, and at John Deere in Ottumwa long after graduation.
In 1948 Bob joined the Iowa Highway Safety Patrol, stationed in Osceola and Albia. There, he met the love of his life, Geraldine "Jerrie" Gray. They married in 1951, where they recently celebrated 70 years together. Albia is where they called home for several years and in this union were blessed with two daughters. The family moved to Ames, Iowa after Robert was promoted to sergeant.
After transferring, Bob was appointed the Iowa Highway Patrol's safety education officer, then led the division after his promotion to lieutenant in 1969, until his retirement in 1981. He served as spoke at the National Safety Congress, the National School Bus Convention and many other forums. . Bob founded the Multi-State Uniformed Safety Education Officers Workshop, subsequently being elected to their "Hall of Fame". He helped form RAGBRAI, the statewide bike ride through Iowa, which he has ridden several times. Other positions held were president of the Iowa Farm Safety Council, president of the Iowa Safety Association, and member of the governor's committee for public health.
Robert was an expert sniper with the handgun, serving as a firearms instructor for the patrol's new recruits. In both competitions, in and out of state, he won numerous marksmanship excellence awards and a former state revolver champion. During the Iowa State Fair, you may have spotted Lt. Robert Glenn wearing the 1935 IHP uniform breeches and boots at the Hall of Law and Fire. It was the largest display of combined law enforcement teaching the public about safety and the law using film and live demonstrations.
The Ames Kiwanis Club presented him with the "Outstanding Citizen's Award" for his public and community service. He joined Toastmasters International by winning a number of speaking contests and served as Iowa District Governor and International Director of the organization. After his retirement, Bob traveled to Ghana and Grenada for The United Methodist Church on mission.
Moving to Branson, Missouri in 1985, he volunteered with the Salvation Army, the American Red Cross, and worked as a tour guide for buses visiting Branson. His busy life also included bicycling until he was 90, coaching Branson youth tennis, and gardening, among other pursuits.
Life member of The United Methodist Church where he volunteered at the church's thrift store; helped with "Ham and Bean" dinners where Bob clowned around for several years, and served as emcee for the Branson Senior Center. Taking advantage of the variety of musical performances Branson has to offer, they attended often. Bob and Jerrie loved traveling, crisscrossing the United States, as well as outside its borders, even embarking on a cruise, while savoring every minute!
Survived by two daughters, Sheila (Rick) Glenn-Whitford and Kimberly (Steve) Lowry; three granddaughters, Onikah, McKeah and Kyndall; three great-grandchildren; one brother Gene (Diane) Glenn of Ottumwa, Iowa.
Robert was a devoted Christian, a loving and caring husband, father, grandfather and friend who will be missed by all who had the pleasure of knowing him. Bob has never met a stranger! He loved life and all it had to offer.
Bob's motto, "Buckle your seatbelt for safety, buckle your seatbelt!"
A memorial celebration service for Robert and his wife, Geraldine, will be held Saturday, March 26, 2022 at 11:00 a.m., Trinity United Methodist Church, 1117 Benton Avenue E, Albia, Iowa. Interment, following cremation, will be in Oak View Cemetery, Albia, with Iowa State Patrol Honors.
Condolences and memories to the family can be left online at www.tharpfh.com.