"People join for the speaking skills. They stay for the leadership skills. |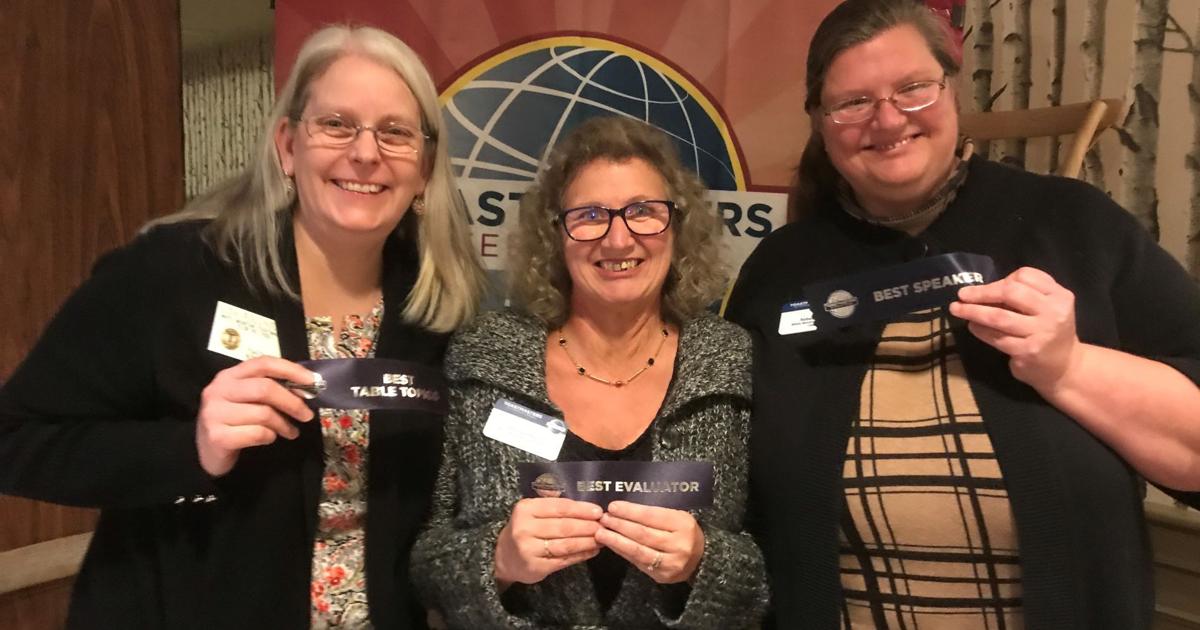 JILL KIMBALL, president of North Country Toastmasters, knew she needed a boost in 2011. "I worked for the Littleton Coin Company, and they wanted me to sell coins online – on QVC," recalls Kimball. "I'm from Boston, I talk fast and I talk with my hands. I was not afraid, but I wanted to show my best face.
Kimball has researched public speaking programs, including the Dale Carnegie System and community college courses. She ended up at Toastmasters and has been an active member ever since.
"I learned skills that I could use in my professional life, skills that I could use in my personal life," Kimball said. "And we sold parts!"
If your "new year, new me" includes better leadership skills, the venerable public speaking program might be for you. With chapters from Coos County to Nashua/Hudson, it offers coaching for the whole person, whether you're preparing for a wedding toast or for national television.
Toastmasters International had its informal beginnings in 1905, when Ralph Smedley was director of education at the YMCA in Bloomington, Illinois. Smedley saw the need for young men in the community to learn how to plan meetings, form committees and, most importantly, present their ideas in public. The first meeting was held in March 1905, and Smedley and other older, experienced men heard and evaluated the speeches and encouraged the speakers. The idea resurfaced when Smedley took a position at the Y in Santa Ana, California, and he was able to sell his colleagues on the idea of ​​a public speaking and leadership club. Toastmasters International Club 1 held its first meeting on October 22, 1924.
The Smedley concept has grown and there are currently 300,000 Toastmaster members in 149 countries and 15,800 clubs.
How it works
Part of the training covers how to organize a meeting and formulate an agenda, a process that has been invaluable to Kimball. Part of the meeting is devoted to table topics, a form of impromptu speech similar to the "elevator pitch".
For each meeting, she says, the group appoints a table topic master, who in turn comes up with the theme. It could be something like the New Year ringtone, your first car, or your pets. Once, the Table Topics master made a theme around the color yellow. Participants have one minute to find a beginning, middle and end. "We had some really cool things with Table Topics," Kimball recalled.
After Table Topics, one or two members give a prepared speech, and the group evaluates their efforts. "We use the 'sandwich technique,'" Kimball said. "You say something positive, then something they could improve on, then something positive."
While the teaching materials give some guidelines, there have been outliers, Kimball reflected. In her 11 years with the program, she has seen some speakers "go off the rails" with inappropriate material. "A few years ago we had a member who was very political," she said. "We even had a meeting about it."
One of the evaluation points, she said, is, "You have to know your audience. Is your content relevant? If it's too divisive, too controversial, it won't resonate well.
She saw other content that was "less than the middle of the road," Kimball added. Usually, relevance can be factored into the evaluation process. But if the tone of the material continues, there could be a vote to remove the person of the club, she added.
"You have to think about your whole audience," Kimball noted.
More than just a speech
Tom Goodwin, vice president of memberships for Toastmasters of the Lake District, joined Toastmasters in 2007 while living on the West Coast. He first joined to help him with a career change from software engineer to financial planner. But when he learned the presentation skills he needed, he stuck around, finding more skills to help him in his professional and volunteer endeavors. He used the talents acquired by Toastmaster at the Lions Club, his country club, and as a member of the board of directors of a local museum and its fundraising campaign.
Being an effective speaker is part of becoming an effective leader, according to Goodwin. The best place to do this is in a supportive environment where you can feel comfortable talking and leading. Goodwin said, "People join for the speaking skills. They stay for the leadership skills.
For Sheila Oranch, vice president of public relations for White Mountain Toastmasters, the value of the program goes far beyond public speaking. "It's not about talking," she said. "It's about understanding your audience, what you want to communicate, what you want the outcome to be.
"It's a program where people help themselves by helping others," Oranch said. "We learn by doing and by helping others."
Why is she still a member? "I'm 'addicted' to watching other people thrive," Oranch said.
She's also "addicted" to applauding the effort, if not the result. Oranch said she relished the moment the members stood up and clapped for a speech, even if it wasn't 100% perfect. "There's this unconditional positive regard for you, just for trying," she noted.
And there's a third reason why she's stuck with Toastmasters, Oranch said with a laugh. "It's like any other skill. I'm not perfect yet!"
Evaluate and evolve
Oranch has a long history with the club and remembers the days when the content of the meetings was not so appropriate: a time when the club was for men only and the jokes often focused on women, and no positive way. She joined in 1974, at the dawn of change in the country and in the club. Her father had helped found a local club and Oranch, then a young mother, "wanted to be something other than Donna Reed". Toastmasters had officially begun allowing female members the previous year, and just in time she noted, "In 1973 a federal law established that any organization that met on federal property could not discriminate."
The first woman admitted to her local club was an insurance company nurse, and Oranch, not yet a member, recalled how the woman viewed her integration. "She was wearing a dove gray suit, her hair up," Oranch recalled. "My dad told me later that they wanted the first female member to be a professional woman with dignity, so she wouldn't threaten the men in the club."
Oranch found his place, learning not only to speak but also to hear. "I was born to talk," she laughed, "but 'talking' isn't necessarily communicating."
As one of the first female members, she saw a definite change in humor style and speaking topics. "A man had been missing from the area for six months," she recalls. "He came back and there were women in the room. None of his "jokes" were working anymore. He had to learn a whole new style of humor.
After the women were admitted, other barriers soon crumbled. Toastmasters opened up to different racial groups and expanded its social reach. "A guy brought his plumber," Oranch said. "Before, there were only guys in suits."
The expansion brought skills to members of all professions, but it also brought a new pool of members to Toastmasters, according to Oranch.
Leading in difficult times
According to Kimball, the organization moved from binders to an online format a few years ago. Members do a self-assessment to determine the path they want to take and train through online teaching modules. "They can go through different paths and skill levels," Kimball said.
But members are still presenting their speeches in person, or since the pandemic, on platforms like Zoom.
"We've been meeting in person for a while, and now due to the COVID push, we're back on Zoom," Kimball noted of his club. But it gives clubs another skill to learn, she added.
"We're learning how to introduce ourselves on Zoom," she said. "We just had a module on the best lighting and how to create a backdrop."
Members can give their best speeches and compete on district, national and even international stages, though that's faded a bit since COVID, Kimball said.
In addition to honing Zoom skills, there is another benefit for the club in the COVID years, Goodwin noted. Before the pandemic, New Hampshire's 27 clubs were defined by geography. If you lived in Nashua/Hudson, you spoke and rated in the Gate City area. If you lived in the Lake District, you attended a Lake District club. Since COVID, all clubs have moved to virtual or hybrid models. While his Lake District club originally drew Laconia, Moultonborough, Meredith and others, virtual meetings allow Toastmasters to have visitors from Rhode Island, North Carolina and even Australia. "It's more about which meeting fits your schedule or your style," he said, noting that each club has a slightly different culture.
View a meeting
The New Hampshire Toastmasters will hold an invitational demo meeting on Thursday, January 20 starting at 6:30 p.m. The virtual meeting will be held at https://us02web.zoom.us/j/89093660554.