NJ Junior Fire Academy trains for the future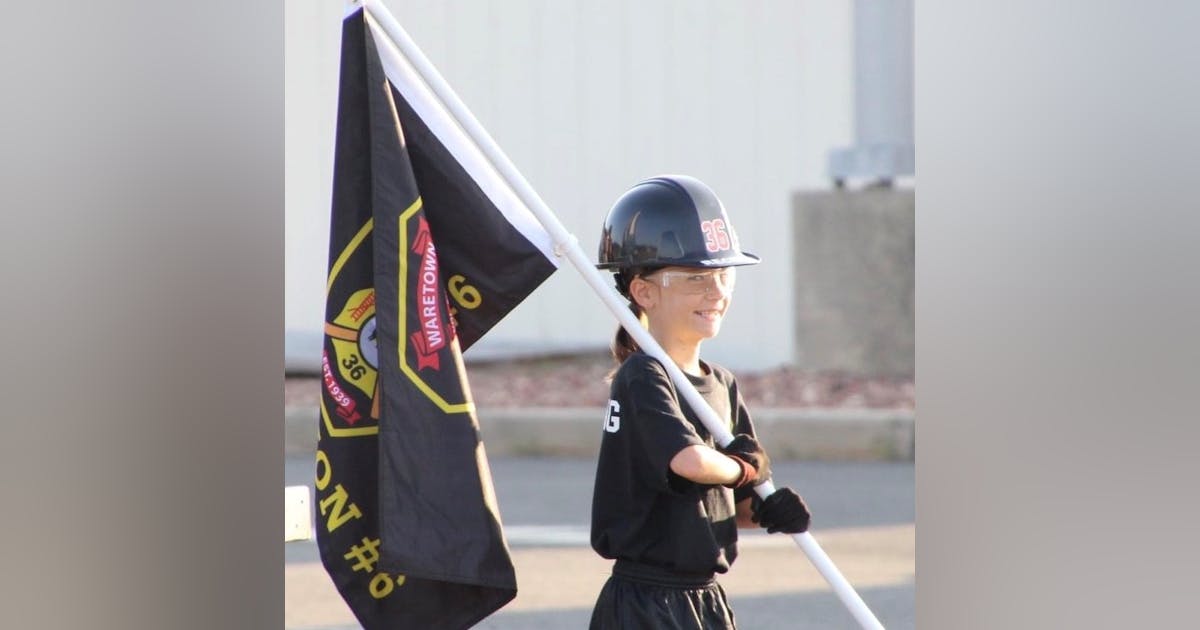 When Brent Cunningham became the Chief of the Volunteer Fire Department in Waretown, Ocean County, NJ, one of his first acts was to start a Junior Fire Academy. Cunningham, who also served as an elementary school teacher, had always dreamed of ways to provide meaningful summer programs for area children that would also involve the fire department.
The local police department had been running a junior police academy for several years and Cunningham and the fire department were responding by bringing an engine and crew to their site to do a few quick demonstrations. So why not create a Junior Fire Academy?
The Ocean County Fire Academy is located in Waretown and would be the perfect setting for the junior academy. After some discussion and planning meetings with his firefighters, Cunningham decided they could reasonably take on the task of setting it up.
"I was a little nervous about the idea at first," admits Cunningham. "And not because I thought it wouldn't succeed, but because I was worried about asking too much of the members who are already giving so much."
Since Waretown is a volunteer service, Cunningham was unsure if he could recruit enough members to run the program safely, especially during the summer months when many members do seasonal work here on the nearby coast of Jersey.
"But, from the very beginning, we've had an average of 12 volunteer firefighters every day and every night of our program to help it succeed," he says. "Most of them work 3-4 nights at the academy and some, including those who are appointed battalion leaders at the academy, volunteer all five nights. This is really the aspect that made this idea a success.
Once he got buy-in from the department and its members, all Cunningham needed was students. They distributed flyers to local schools and Cunningham set up a Facebook page to help promote the academy. In the very first year, 40 recruits signed up.
"That first year was exhilarating and challenging," he recalls. "It's difficult in the sense that we've moved to this large-scale program without too much testing…we've really gotten started."
As with anything new, they ran into some issues that required quick tweaks and fixes. But, as Cunningham is quick to point out, in the fire department everyone is skilled enough to change plans at any time, and problems were resolved fairly quickly.
"It was exhilarating in the sense that it worked, and it worked well," he says. "The firefighters working in the training areas, the special guests who volunteered their time, the recruits and the community as a whole really made the plan happen in a way that I had hoped, but I haven't fully considered until this happens in the moment."
The recruits' response was an immediate desire to engage in the activities and accomplish more each day. The heat and hard work took their toll in that first year, but the recruits always came back with an eagerness to tackle the next day's activities. In fact, Cunningham says one of the real barometers of the event was the number of recruits who applied to return the following year to become "junior instructors" for the younger recruit division. And the firefighters all found it equally engaging.
"I think at the heart of many firefighters is a desire to teach what they are passionate about: firefighting," says Cunningham. "And it gave the opportunity not just to teach, but to teach a whole group that is dedicated to learning, which is rare. The following year, the number of firefighters offering to help also increased significantly.
a day in the life
At first, the Waretown Junior Fire Academy ran during daylight hours, but this put a strain on the firefighters as it was a voluntary agency. Cunningham says it was also difficult for rookies and parents to make pick-up and drop-off work (not to mention the heat!). The decision has been made to move the operating time from Monday to Friday from 5:00 p.m. to 9:00 p.m. Cunningham says this has resulted in cooler temperatures, a little less chance of pop-up thunderstorms in the summer (which really create problems for an operation that is primarily a hands-on outdoor activity), and allowed for a lot more recruits and volunteer firefighters to help.
All recruits entering the academy receive uniforms, PPE (safety glasses, gloves, and helmet), responsibility tags, and assignments within divisions, battalions, and companies. Throughout the week, each group works together to attend class lectures on topics such as fire department history, fire behavior and communications. They also receive instruction from special guests within the fire department each night. These invitees may include the Regional Hazmat Team, RIT Teams, New Jersey Wildland Fire Department, EMS, and the Ocean County Fire Marshal's Office.
A typical evening begins with a roll call and briefing on the night's activities. Recruits then head to the training grounds for light physical exercise, drill, and ceremony. Then, the three groups would go to one of three training areas for the night: practice station, special guest, and classroom/secondary practice station. Each group works in the training area for about 50 minutes, then they rotate. Every night, the crews also perform practical tasks (stretching and loading hoses, connecting and loading fire hydrants, breaking in, finding ladders, etc.).
At the end of the night, the academy usually holds a short competition between groups based on one of the evening's practice stations. For example, on the first night there is usually a timed race for recruits in each group to unroll two donut-rolled lengths of 1¾-inch garden hose, tie them together, attach a nozzle to one end and the other end to a discharge on the engine. Then the first battalion that knocks down three cones with the flow wins.
As the event grew over the years, Cunningham says they created two divisions. One for older students (grades 7 and up) and one for younger students (grades 4-6e to note). Each division is divided into three battalions, and each battalion is divided into two engine companies, a truck company and a salvage company. They use real radios, real hoses and all real hand tools (when allowed) during their trainings.
On the final night, after a short graduation ceremony, a competition night is held where engine companies stretch and load hoses to put out fake fires (cones) inside the facility building , while salvage companies and trucks launch ladders, force entry and search the structure for victims.
Some safety rules are in place to protect recruits. Cunningham says they strictly adhere to the main rules: no climbing ladders capable of extending to 35 feet or more (they stick to 24-foot extension ladders, and they don't raise only two rungs), no use of hydraulic tools and no access. to any of the buildings during any live fire operation. Recruits are only allowed to use hand tools and hoses with all their PPE on and there is always a minimum of three certified firefighters in each training area for supervision.
To advance
Unfortunately, COVID caused Waretown Junior Fire Academy to close in 2020 and 2021. But, with proper safety protocols and guidelines in place, it is back in business in August 2022. And it's coming back bigger and better than ever.
Cunningham says they started that first year with around 40 recruits during our week-long academy.
"By our last class (2019), we have become a two-week academy of approximately 130 recruits divided into two separate divisions based on age," he reports. "Since we don't need recruits to live in our town, we had recruits from all over Ocean County, the rest of New Jersey, and even Pennsylvania. Our department has even adapted our bylaws to allow all candidates who have completed three years of the Junior Fire Academy to become junior members at age 15. Additionally, we have created a Junior Instructor Program for the Academy, which allows recruits from Division 1 (the oldest age group) to return during Division 2 to help instruct/supervise recruits. During the 2019 class, we had around 20 junior instructors.
When asked why he wanted to share their story with Firehouse, Cunningham said he just wanted to help other departments set up a similar program.
"My goal for our program was to provide an engaging, safe, and meaningful experience in the fire department for local children. The hope behind each class was that someone would find they truly loved that calling and seek it out. My goal in sharing the story is to spark that same idea in the minds of any other interested firefighters who might read this and provide evidence that it is indeed possible to orchestrate.
"In addition to the phenomenal support of our firefighters, I have relied on the kindness and helpfulness of countless agencies to get this idea off the ground. And they all came together in incredible ways to make it happen. In an attempt to to somehow pass this kindness on to someone else, I encourage anyone looking for guidance in establishing a program like this to feel free to contact me for any assistance I can offer.
For more information on Waretown Junior Fire Academy, visit their website or email Cunningham.