Leland (Lee) Melville | Waukesha County Obituaries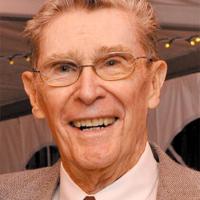 WAUKESHA VILLAGE
Leland (Lee) Melville
September 6, 1923 – June 30, 2022
Leland (Lee) Melville of the Village of Waukesha passed away peacefully on Thursday, June 30, 2022 at AngelsGrace Hospice at the age of 98. He was born in Manitowoc on September 6, 1923, the son of David and Amanda (née Schadeberg) Melville.
Lee grew up in Manitowoc and graduated from Lincoln High School in 1941. After graduation, he worked for Manitowoc Shipbuilding until voluntarily joining the United States Army in 1943 where he served in European and Pacific theaters during World War II in the 785th Military Police Battalion. After his honorable discharge, he enrolled in Carroll College and graduated in 1950 with a bachelor's degree in business administration. He graduated from the American Institute of Banking in 1953 and also graduated in 1957 from the School of Banking at the University of Wisconsin-Madison. He was employed by the Waukesha National Bank and went on to a 30-year career with the bank. Lee rose through the ranks and became president and CEO of First National Bank of Waukesha. The bank had many name changes and upon his retirement in 1981 he was chairman of Independence Bank Group Inc.
In 1951 he married Fay Wittbold, also a Carroll College graduate, and they were married for 65 years, until his death on December 27, 2016.
Over the years, Lee has been very active in the Waukesha community and has been involved in many different organizations including President and Chairs of the United Way Fund, Director and Treasurer of Waukesha Memorial Hospital, Director and President of the Waukesha Memorial Hospital Foundation, Merrill Hills Country Club. president, founding member and president of the Waukesha Toastmasters Club, board member and vice-president of the Waukesha Noon Optimist Club, recipient of the 1982 community service award from the Waukesha Chamber of Commerce among many other directorships and of president. Lee was also instrumental in the construction of a new state office building in downtown Waukesha (Lee Sherman Dreyfus State Office Building) and was active in fundraising for Carroll College, Waukesha Memorial Hospital, YMCA, Boy Scouts, Red Cross, March of Dimes and United Way. He was a life member of the American Legion, a life member of the Senior Golf Association of Wisconsin, and a founding member of the Brook Club.
Outside of his stellar professional career, Lee enjoyed life with a good sense of humor and enjoyed playing tennis (winning the 70+ Men's Doubles Club Championship in Spruce Creek, Florida) and golf (scoring three holes in one at Merrill Hills Country Club). He also found enjoyment in pheasant hunting, fishing, downhill and cross-country skiing, poker, reading, the stock market, and physical activity at his home in Spruce Creek, Florida.
He will be sadly missed by his daughter Debra Fay (Scott) DePauw of Gurnee, Illinois; son David (Sandi) Melville of the village of Waukesha; his grandchildren, Rebecca Lee (Charles) Jackson, Tyler (Jessica) Melville and Jacob Melville (fiancé Kristin Zablocki); his step-granddaughter Heather DePauw (fiancée Dakota Massengale); his great-grandchildren, Charles Lee Jackson, Ryan Jackson and Emersyn Fay Melville; and step-great-grandson Kota Massengale. He is survived by a niece, nephews, other relatives and friends.
In addition to his wife, Fay (whom he always referred to as his "bride"), he was predeceased by his brothers David Melville, Edwin Kummer Sr. and his sister Mildred Shimek.
Visitation will be held Thursday, July 14 from 3 p.m. until the 5 p.m. funeral service at Randle-Dable-Brisk Funeral Home, 1110 S. Grand Ave., Waukesha. Pastor Paola Benecchi will preside. Full military honors will follow the service. Private interment with his wife Fay will take place at the Southern Wisconsin Veterans Memorial Cemetery in Union Grove at a later date.
Memorials in Lee's name are enjoyed by the Alzheimer's Association Southeast WI Chapter, 620 S. 76th Street, Suite 160 Milwaukee, WI 53214.
Randle-Dable-Brisk Funeral Home, Crematory and Preplanning Services is honored to serve the family. For more information, please call the funeral home at 262-547-4035 or visit us online at www.randledable.com for directions or to leave the family a tribute message online.