Joanna Herman Lewis | Obituary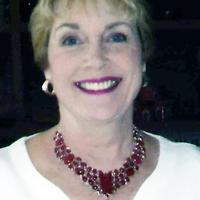 Joanna Hermans Lewis died on April 14 after a long illness. She was born on October 19, 1937 to Anthony and Telita (Stein) Hermans in Westchester County, New York. She attended local schools in Westchester County and graduated from Eastchester High School.
After high school, Joanna and her sister Jeanne traveled west to California for independence, excitement, and opportunity. Over the years Joanna has made homes in Palo Alto CA, Houston TX and finally New Braunfels where she dabbled in art, fashion and cooking. A voracious shopper, rumor has it that she had the very first Amazon account.
Joanna has been an administrative assistant in the energy markets and financial services for most of her working life. She met and married Edward Debow Lewis in Houston. Ed and Joanna retired to New Braunfels in 1980 to join his immediate family and many relatives. She was socially active in her community and was a member of the First Protestant Church and the Gay Forties. She loved to learn and was a member of Toastmasters, New Brunswick Citizens' Police, Leadership New Braunfels and served as director of the Sophienburg Museum.
Joanna was an accomplished vocal soloist and enjoyed performing in church and local community theater. In her later years she traveled the world visiting Africa, New Zealand, Australia, Western Europe and Canada. Joanna was a proud New Braunfels resident for over 40 years.
Joanna was predeceased by her parents, husband and younger sister. She is survived by her nephews Scott Oranen (wife Christine, son Hudson, daughter Jacqueline) of Spicewood TX and Eric Oranen (wife Cathy) of North Palm Beach FL.
Joanna's family would like to thank all the wonderful and compassionate care she received at Gruene Senior Living, Eden Hill, Christus, Resolute Hospital and Hope Hospice.
The family will receive relatives and friends on April 29 from 5 to 7 p.m. at the Doeppenschmidt funeral home; 189 N Seguin Ave New Braunfels TX 78130.
Joanna will be buried with her husband at Fort Sam Houston National Cemetery in San Antonio, Texas.