Clark Johnson | Death notice | iwantthenews.com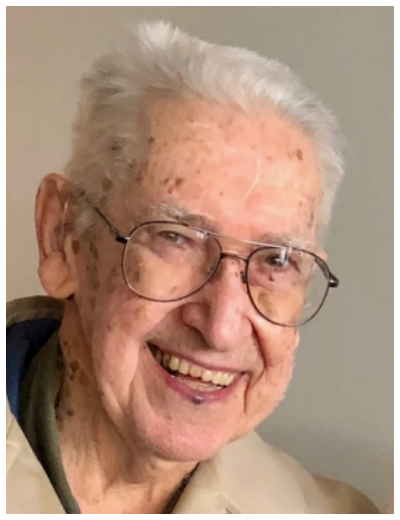 Clark Randall Johnson, 91, of Columbia, Missouri, formerly of Kiel and Crystal River, Fla., Died on Friday, September 24, 2021 of complications from heart and kidney disease.
He was born on October 8, 1929 in Silver Lake. Clark grew up on farms in central Wisconsin and Minnesota with a loving extended family. After graduating from high school in 1947 in Pine Island, Minnesota, he attended the Gale Railroad Institute in Minneapolis and began working as a telegraph in Prescott, Arizona. From there he was drafted into the military and served in the Korean War. While stationed in South Carolina, he met Estelle Graham and, after her release, they were married in Columbia, South Carolina on February 6, 1954, before moving to Manitowoc in November 1956.
Clark has enjoyed a distinguished and rewarding 10-year career as a dairy herd manager. He managed herds in South Carolina, Manitowoc and St. Nazianz. The herd of Holstein cattle he led at Manitowoc won several awards in dairy competitions, including a great champion bull that he presented at the Manitowoc County Fair in 1961. He often spoke of one of his proudest and most difficult moments. On Friday October 13, 1961, the barn burned down. Leading his work team, who were mentally ill patients at Manitowoc County Hospital (formerly known as the Manitowoc County Insane Asylum), he managed to remove the entire herd of exhibition and set up a makeshift milking parlor in time for the evening milking with no humans or animal lives lost. A few years later, health considerations prompted him to look for another job. After taking evening classes to learn computer programming, he went to work at Kohler Company, eventually finding his passion in a second career as a technical writer.
In 1985, his career took him to Crystal River, Florida, where he stayed for 29 years. Estelle died in 1992. He then married Marjorie Durham, formerly of Hinsdale, Illinois.
Clark was a loving and caring father, sending letters to his two daughters almost weekly for most of their adult lives.
In 2014, he moved to Columbia, Missouri to be closer to his family, living first in The Terrace retirement community and later in Gentry Estates.
Grandson of a Baptist pastor, Clark was an avid Bible student, led Bible study groups in Crystal River and Columbia, and served as an elder and Sunday school teacher at First Presbyterian Church in Kiel, occasionally preaching in local churches. While in Crystal River, he was a member of the Seven Rivers Presbyterian Church and was active in the Men's Prayer Breakfast community. He has also been the editor of several books written by his friend and collaborator Dr Joseph Kanzlemar. He participated in the 1997 Promise Keepers Christian Men gathering in the Washington, DC Mall. In recent years, Clark has begun a Ten Commandments study, designing and distributing Incentive Cards to anyone who crosses his path.
Clark has dedicated himself to a life of service. He was an active member of Toastmasters International for many years, achieving the level of Distinguished Toastmaster, serving as governor of the Eastern Wisconsin region, and founding three chapters in Wisconsin and Florida. He was also involved with Habitat for Humanity, founding the Citrus County Chapter and participating in construction blitzes in New Zealand and Fiji. While in Florida, he also served on the board of directors of the Isaiah Foundation (a nonprofit group that provides respite care to families with a child with autism) and the Covenant Children's Home. He accompanied reformed criminal Jack "Murf-the-Surf" Murphy to several Department of Prison events in Florida. He also participated in a post-Katrina volunteer project at the Missouri Union Presbytery in New Orleans.
He participated in Mid Missouri Veterans Flight # 43 to Washington, DC in 2016.
Most recently, he received a Legacy Teacher Award from the Columbia School of Medicine at the University of Missouri at the age of 90 for the profound impact he had on a doctor-in-training when she had it. seen as a patient at the university hospital. Here is an excerpt from his letter: "In no time I was able to learn how special he was and how much he loved this world, his family and his God.
He is predeceased by his parents, Reuben and Hazel Randall Johnson, and his wives, Estelle Johnson and Marjorie Johnson. He is survived by two daughters, Diane Johnson of Columbia, Missouri, and Debra Fett (David) of Fond du lac; two granddaughters, Leah Mathers (Derek) of Denver, Colorado and Erin Fett of Rochester, Minnesota; Sister Mary Caves of Hancock and Brother Richard Rickerson of Arvada, Colorado.
The family sincerely thank their doctors and caregivers at MU Health and Truman VA, Compassus Hospice, Elara Caring and The Neighborhoods. Special thanks to Dr Steven Zweig of MU Health and Trish and Heather of The Neighborhoods.
A memorial service was held on October 23 at the First Presbyterian Church in Columbia, Missouri. A memorial service will be held at First Presbyterian Church, 727 6th St. in Kiel on Saturday, November 13 at 2:00 p.m. with a pre-service reception starting at 1:00 p.m. Interment will take place in Kiel. In lieu of flowers, donations are suggested to Habitat for Humanity or the Kermack-Parker Trust Fund at First Presbyterian Church in Columbia.
Arrangements are under the direction of Parker-Millard Service & Crematory, 12 E. Ash St., Columbia, MO 65203. Condolences can be left with the family at www.parkermillard.com.