City of Edina Hosts Stop the Hate Event to Discuss Prejudice | Edine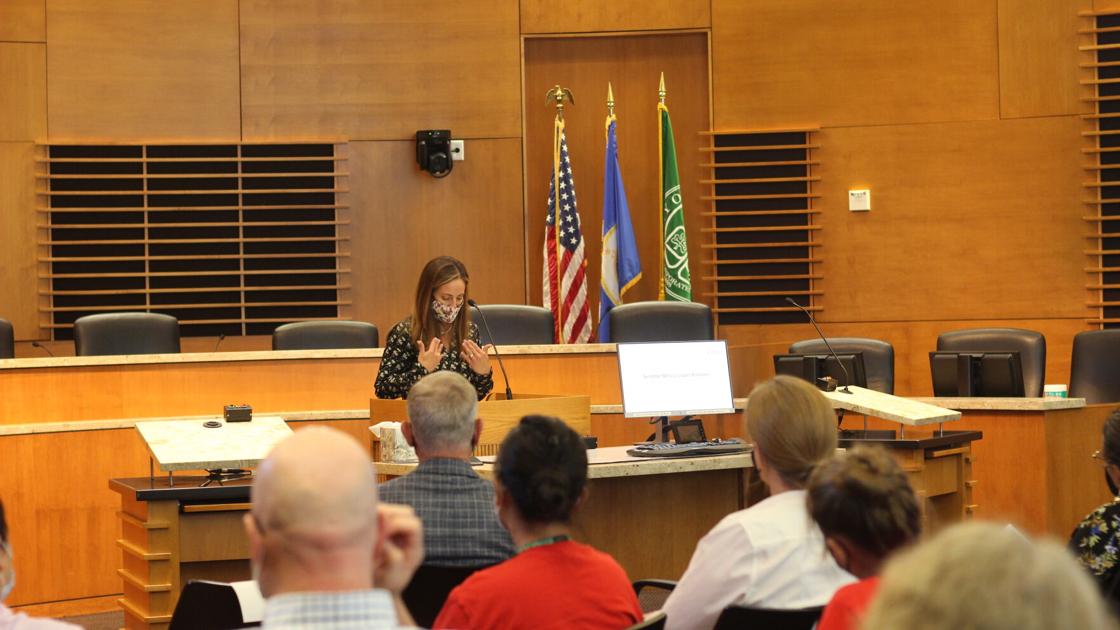 Community members discussed ways to fight hate and spoke about their own experiences dealing with stigma at a forum earlier this month.
The Stop the Hate forum, organized by the Commission for Human Rights and City Relations of Edina, was held on September 12 in the council chamber of Edina City Hall. The event included scheduled and open mic speakers, as well as local and regional panelists.
Speakers included Ankita Deka, associate professor of social work at the University of Augsburg; James Darville, of OutFront Minnesota; Steve Huegs, from the Regional Jewish Community Relations Council; Nicole Jennings, from the Collectif Anti-Racisme d'Edina; and Ellen Kennedy, of World Without Genocide; as well as Senator Melisa López Franzen (D-Edina), Representative Heather Edelson (D-Edina); Stacie Stanley, Superintendent of Edina Public Schools, and Jim Hovland, Mayor of Edina.
Moderator Jasmine Brett Stringer Moore, also Commissioner for Human Rights and Relations, kicked off the event. The first speaker was Deka, who spoke about the experiences of Asian Americans. She mentioned an increase in violence against this group, likely due to misinformation about COVID-19 and terms like "Chinese virus," she said.
"We are invisible in the conversation about racism and colonialism," she said. "Small acknowledgments from the City of Edina, City Council as well as our representatives and senators and our school districts could actually go a long way to send a strong message that anti-Asian hate crimes are not acceptable. "
The fight against conversion therapy has been a central concern of OutFront Minnesota, an LGBTQ rights organization, as the state legislature has failed to take action to end the practice, said Darville, director of policy and organization of the organization. In July, Gov. Tim Walz took action to help, by signing an executive order banning conversion therapy, Darville noted.
Hunegs, executive director of the Jewish Community Relations Council of Minnesota and the Dakotas, mentioned the organization's involvement in calling for an increase in sentences for those involved in the bombing of the Dar-Al-Farooq Mosque.
Huegs said he would speak in court during sentencing. "If there is a way to stop the hate, that's it," he said.
Jennings, a black resident of Edina who is a member of the Edina Anti-Racism Collective, spoke about conversations she was to have with her children following the police murder of George Floyd. She said she told them, "They don't have to live in fear… No matter what they see or hear, they deserve the world like everyone else.
Several panelists discussed ways in which the community can take action to address hate.
Kennedy, executive director of World Without Genocide and former winner of the Edina Tom Oye Human Rights Award, mentioned the importance of not being a bystander in situations that require intervention, but rather an "advocate of an advocate". ".
"I ask you to stand up and speak out when you witness acts or hear discriminatory or hate speech," she said.
López Franzen, who was recently elected DFL Minority Leader in the Minnesota Senate as the first Latina to hold the post, spoke about several bills that have been passed by the state legislature and intended to fight against hatred and prejudice. These included an anti-bullying law, passed in 2014, and a Senate resolution, introduced this spring, which condemned acts of increased violence against Asian Americans.
She also mentioned Travis' Law, which requires 911 operators to direct calls to mental health officials when the situation is appropriate.
Edelson encouraged people to address discomfort when discussing difficult topics.
In Edina's public schools, the administration's vision is that "every student will discover their possibilities and thrive," and in order to do that, students need to feel like they belong, Superintendent Stanley said at the forum. She also recognized the progress black families made in Edina, especially at the turn of the 20th century with the Yancey family.
"We just need to understand and harness our history… to move forward," Stanley said.
The last speaker at the event was Mayor Hovland, who said times of crisis can allow people to find common ground, such as after 9/11, but also exploitation, such as the internment of Japanese Americans after the attack on Pearl Harbor. .
"We must be vigilant against this prejudice which can turn into hatred," he said. "And the question we need to ask ourselves is, 'Who do we want to be as a people? ""
– Follow Caitlin Anderson on Twitter @EdinaSunCurrent
Copyright © 2020 at Sun Newspapers / APG Media of East Central Minnesota. Digital distribution of this content without prior written consent is a violation of federal law and may be subject to legal action.