Banned books become fodder for strong readers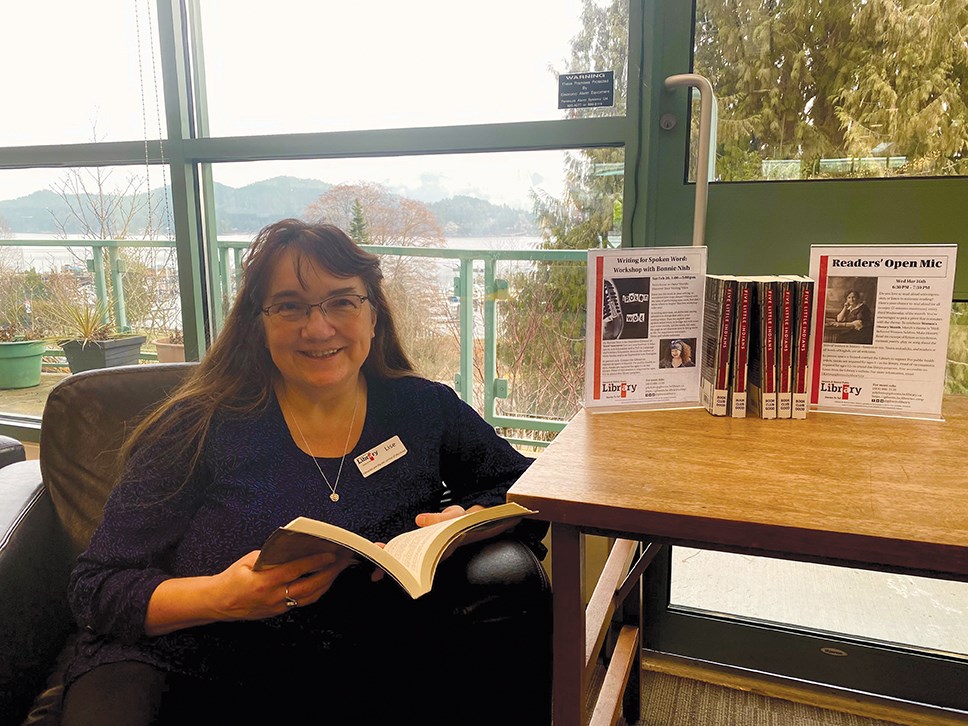 Gibsons Public Library's initiative to promote public readings turned to one of the murkiest chapters in literary history at a rally on February 16, the subject of banned and disputed books.
The library's community reading series began in January, the brainchild of outreach coordinator Lise Kreps and library volunteer Johanna Rzepa.
Its inaugural monthly session featured winter-themed prose and poetry. To mark Freedom to Read Week, which runs from February 20-26, the latest event has raised the heat by inviting readers to read books deemed too incendiary for mass consumption.
Half a dozen adult readers participated in person and via streaming video connection, reading aloud five-minute excerpts from published works, including Bronwen Hughes' Harriet the Spy, JK Rowling's Harry Potter stories and Leaves of Grass by Walt Whitman.
In libraries and bookstores around the world, these books – and novels like The Catcher in the Rye and Huckleberry Finn – have been pulled from shelves over the past century due to content perceived as salacious or seditious. George Orwell's 1984 dystopian bears the distinction of being the most frequently banned book in America.
"It's true that over time and enough breadth in a collection, something will be really offensive to just about everyone," Kreps said. "But you know, that's what we're here for. We are here to represent all the different points of view. And we also reconsider things over time.
Kreps recently learned that one of his favorite childhood series — Swedish author Astrid Lindgren's Pippi Longstocking novels — has been called offensive due to outdated references to people of color. But she thinks there is a more constructive alternative to avoiding such posts outright.
"With my own child, I used CS Lewis's The Horse and His Boy – which is highly racist in many ways – as an opportunity to discuss how racist it is and how attitudes have changed . Each parent can do it or not as they see fit. That's the beauty of the freedom to read: you can read it or you can't. It's yours."
Johanna Rzepa, who worked with Kreps to create the library's community reading program, whetted her own appetite for public reading through a local Toastmasters club. She practiced these skills as a performer at the Sunshine Coast Festival of the Performing Arts and wanted to give others the opportunity to find their voice.
"I see readers loving literature, which is wonderful," she said. "I think even the performers, like the pianists who have to stand up and say who wrote the piece and something about it, would really benefit. Reading is a performance, after all. just get up [to read] gives you more self-confidence.
Kreps is planning another community reading night in March, which will highlight works in support of International Women's Day. A reader's version of Shakespeare's A Midsummer Night's Dream is in preparation for June. The library also offers a monthly open-mic night for writers who want to read their own compositions aloud.
Freedom to Read Week is organized nationally by the Book and Periodical Council of Canada. It was conceived in 1985 in response to objections raised by Ontario schools about Margaret Laurence's novel The Diviners.