Annual Veterans Day Ceremony to be held for the first time at the National Veterans Resource Center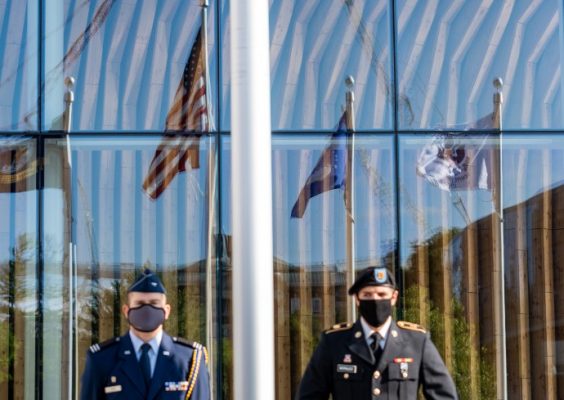 The Syracuse University community is invited to the University's annual Veterans Day ceremony on Thursday, November 11, which will be held for the first time at the Daniel and Gayle D'Aniello Building National Veterans Resource Center.
The event will begin at 11 a.m. with a welcome address and an introduction by Charlie Poag, a Newhouse School elder and a United States Marine Corps veteran.
Christine Brophy, research analyst at the University's Office of Institutional Research and U.S. Army veteran, will share the Veterans Day story. Harris Krahn, sophomore at Maxwell School and College of Arts and Sciences, veteran of the US Marine Corps and secretary of the Student Veterans Organization, will talk about the history of the University in the service of veterans and reflect on his own campus experiences.
The ceremony will include addresses by Chancellor Kent Syverud and Dean of Chapel Hendricks Brian Konkol. Chancellor Syverud will introduce the event's keynote speaker, Retired Lieutenant-Colonel Victor Holman '82.
Holman began his decorated career when he was appointed second lieutenant in the Reserve Officer Training Corps at Syracuse University. He is currently Secretary of the United States Army Doctrine and Training Command (TRADOC), a single four-star general command. TRADOC has an annual budget of $ 8 billion, trains more than 500,000 military and civilian personnel and leads a workforce of 45,000 people around the world. Holman leads four high performing teams that manage executive communications, information technology and key administrative support for the Commanding General.
The event will also include performances by singers from Syracuse University and the 198th Army Band.
Earlier that morning, the annual Veterans Day Run, Walk and Walk will begin at 6:30 a.m. on the Einhorn Family Walk past the Schine Student Center. Register here.